Isokinetic Sampling System for Two-Phase Liquids
DN 15 – 100 / PN 10 – 40
NPS 1/2″ – 4″ / class 150 -600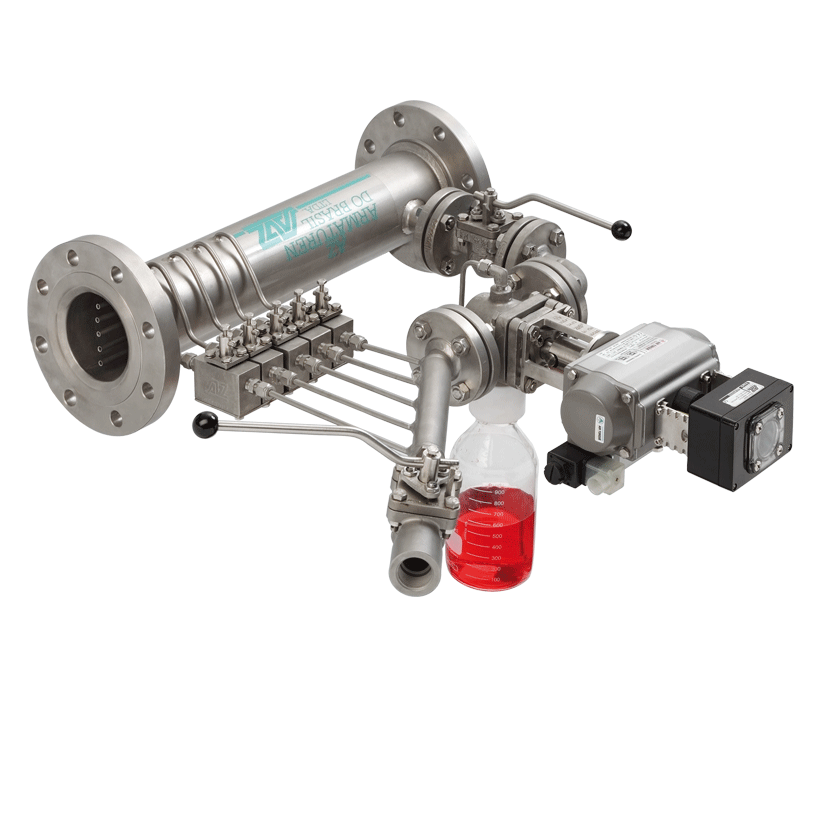 Design Features
Design Characteristics
drawing of sample proportional to flow rate or in time intervals

manual or automatic operation

pressure free sampling

defined sample quantity

sampling container customized


operation simple and safe
The isokinetic AZ sampling system type "SIC" consists of a multiple pipe for two-phase liquids. It applies to oil platforms and in plants e.g. for the production of petroleum.
Function:
The small pipes, which are arranged in the diameter of the main line, against the flow, lead a cross section of the main product stream isokinetic over a bypass to the sampling system. Thus develops a representative sample of the two-phase liquid. There is no need of an additional mixer or a centrifugal device! The sampling frequency can be directed by an optional control unit proportional to the flow rate or in time intervals.
PT-Diagram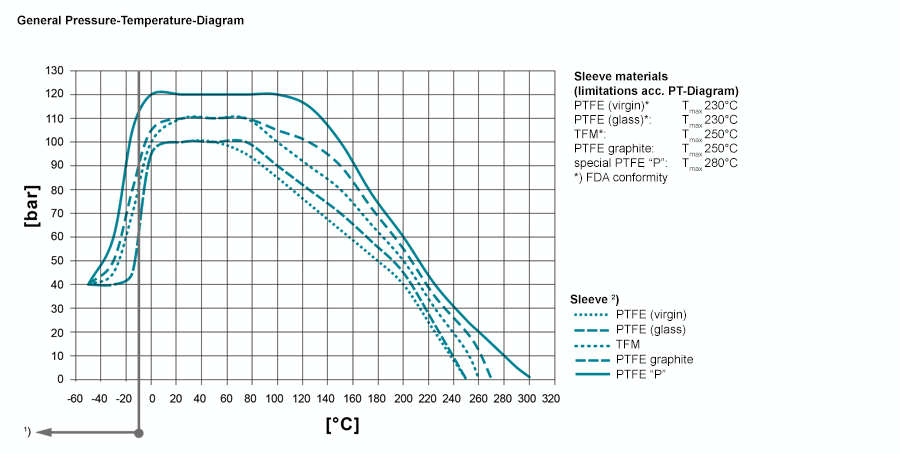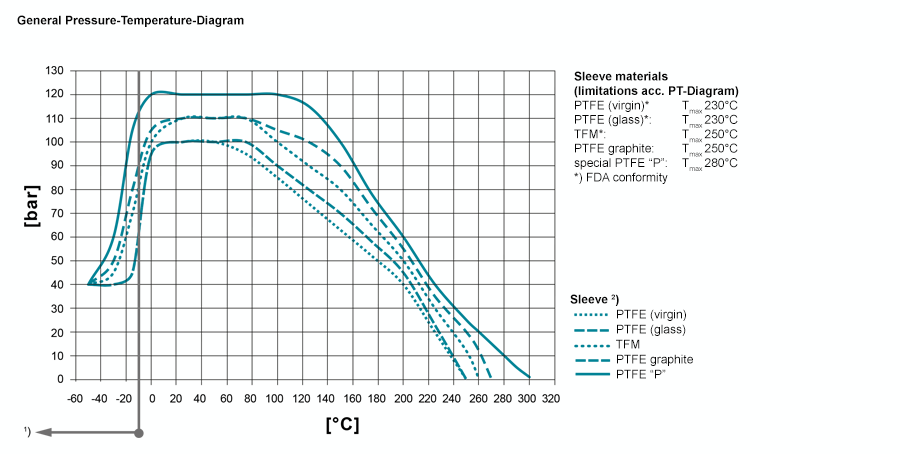 Operating temperatures < -30°C and > 220 °C have to be checked and approved by AZ according to the operating conditions.
Besides the P/T value of the sleeve the limitations of the valve bodies also have to be considered. Please refer to the EN 12516-1 resp. ASME B16.34 in order to choose a proper pressure rating (PN/class). The shown values refer to austenitic stainless steel 1.4408 (A351 Gr. CF8M).
1) For operating temperatures below -10°C low temperature / austenitic steels are required.
2) Sleeve: There are different sleeve materials / compounds available.
Materials
Standard body materials
• Carbon Steel 1.0619, ASTM A216 WCB
• Stainless Steel 1.4408, ASTM A351 CF8M
• Stainless Steel 1.4308, ASTM A351 CF8
• Unalloyed stainless steel casting (low Temp.) 1.1138, LCC/LCB/A352
Standard plug materials
• Stainless Steel 1.4408, ASTM A351 CF8M
• Stainless Steel 1.4308, ASTM A351 CF8
Special materials
• Alloy
• Monel
• Nickel
• Zirconium
• Titan
• Tantal
• other materials on request
Sealing Systems
Standard sealing for all major applications;
T

max

230°C


Type STD

read more [...]
Firesafe safety sealing (API 607) for fluctuating temperatures
with 3x graphite packing (adjustable) for additional
stem sealing; T

max

280°C


Type FSN

read more [...]
Firesafe sealing (API 607) with graphite packing for additional
stem sealing; T

max

230°C


Type FS

read more [...]
Firesafe safety sealing (API 607) for fluctuating temperatures
with 3x graphite packing (live loaded disc springs) for additional
stem sealing; T

max

280°C


Type FSN-SL

read more [...]
Chemical sealing to prevent fugitive emission of aggressive and toxic media
with PTFE packing for additional stem sealing; Tmax 230°C


Type CA

read more [...]
Chemical safety sealing for fluctuating temperatures
with 3x PTFE packing (adjustment) for additional stem sealing;
T

max

230°C


Type CASN

read more [...]
Chemical safety sealing for fluctuation temperatures
with 3x PTFE packing (live loaded disc springs) for additional
stem sealing; T

max

230°C


Type CASN-SL

read more [...]
Port Forms


Dimensions
dimension for installation customized
horizontal or vertical installationty
Actuation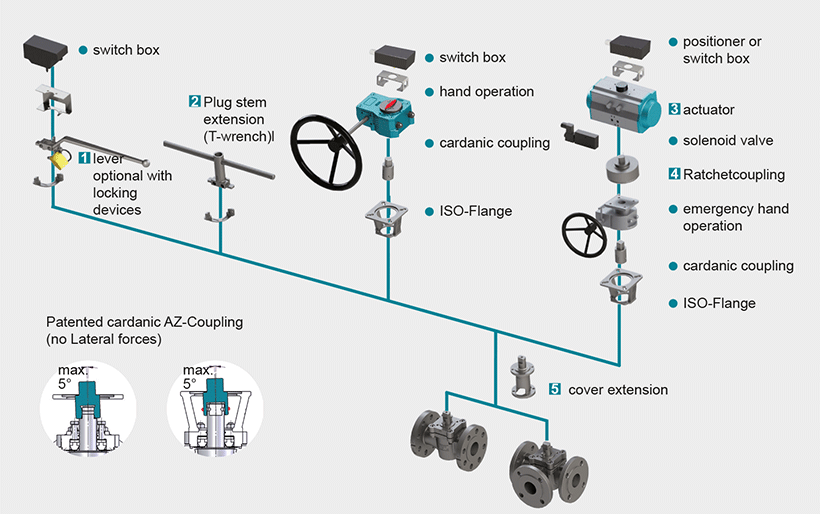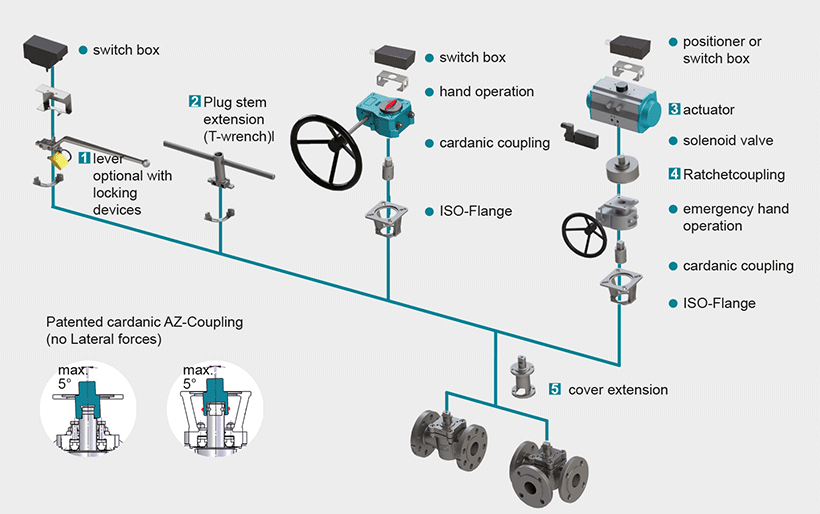 1 Locking Devices
Pilot valve combinations, pad lock eyelets, linear key conception, indexing plunger arrestor.
read more […]
2 Plug stem extension
Solid construction in stainless steel with T-wrench, Standard extension 100 mm or 150 mm, non standard lengths are available on request
read more […]
3 Actuators
Actuators for mounting-flange acc. to DIN ISO 5211
read more […]
NEW: Pneumatic actuator AIR GEAR for plug valves with high torque =150.000 Nm
read more […]
4 Ratched coupling
To usw on multiport valves with standard 90° actuator for bigger switchpositions than 90°
read more […]
5 Cover extension
Solid construction in stainless steel, Standard extension 100 mm or 150 mm high,  non standard lengths are available on request . Hexagonal bolts on adjustment ring freely accessible. Note: Don't use with sealing FSN/FSN-SL and CASN/CASN-SL
read more […]